No matter the problem we offer a program to fit your needs
STANDARD QUARTERLY SERVICE – We will treat your home 4 times per year for general pest issues.  General Pests include ants, centipedes, cockroaches, earwigs, millipedes, pantry pests, pill bugs, silverfish, spiders and other ground crawling insects. This program includes exterior treatment in the spring, summer and fall as well as interior inspection and treatment in the winter. You get piece of mind year round with a 365 day warranty.
FULL SERVICE QUARTERLY – This program is the same as the Standard Service above but also controls bees, wasps, Asian beetles and box elder bugs.
Termite Protection
We use the most effective technology and products to stop any current termite infestation and prevent any more damage to your home.  Rapid Pest Solutions offers a warranty from a minimum of 1 year up to 10 years with an annual inspection and renewal.
Mosquito Control
Take your yard back!  Whether you need an one time service for a special event or a seasonal program, Rapid is your source for Mosquito Control.  We will customize you service and let you enjoy your yard again.
Stinging Insects
Rapid Pest Solutions can eliminate and prevent many different types of stinging insects including Carpenter Bees, Yellow Jackets and Hornets.  We can also provide protection against re-infestation for the whole season.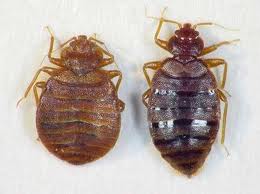 Bed Bug Elimination
Our approach to effectively eliminating Bed Bugs cannot be beat.   We use the most effective products along with hard work and great communication with our customers to eliminate your Bed Bug infestation.  Rapid Pest Solutions also offers a annual program to prevent Bed Bugs from coming back
We can customize a program to fit your needs as well as provide an individual service to solve a specific problem.
Call us at 219-836-5066 today for more information on the residential services we offer, or fill out our contact form.
OUR TECHNICIANS ARE EXPERTS IN DELIVERING QUALITY COMMERCIAL SERVICE WITH EXPERIENCE IN PEST SENSITIVE INDUSTRIES
Rapid Pest Solutions creates a pest free environment at your business. We provide Integrated Pest Management (IPM) solutions for a wide variety of industries including food service, manufacturing, health care, education, pharmaceuticals and office space.
Rapid also adheres to the strict standards of the American Institute of Baking (AIB) for all food service businesses.
Let us use our knowledge and expertise to design a custom plan to protect your business.
Call 219-836-5066 to request service or to learn more about how we can make a difference in your business. To view our service areas CLICK HERE